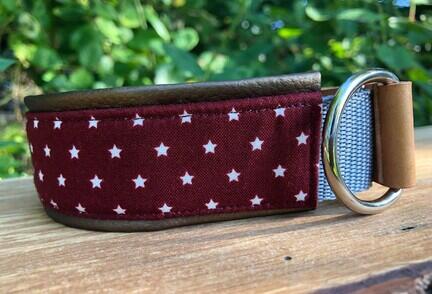 Star
€ 24,20
Bronze coloured fake leather, cotton fabric in bordeaux and white nuances, grey webbing and genuine leather half stop.
The leasther is treated with leather fat and will obtain a dark and beautiful brown coloured when over time.
It is possible to get the leather stamped with name, adress and phone number.
This collars are made to measure and are not adjustable.
When ordering, please add the following measurements:
Measure 1: Your dogs necksize. The measure has to be tight but with the possibility to put two fingers between tape and neck.
Measure 2: The widest place around your dogs head.
Available widths:
- 1.18"
- 1.57"
- 1.96"
- the leather stop is 1 cm narrower than the collar itself.

Product detalis:
- Bronze coloured fake leather
- Genuine leather
- cotton fabric in bordeaux and white
- Grey webbing
- nickled plated and welded hardware