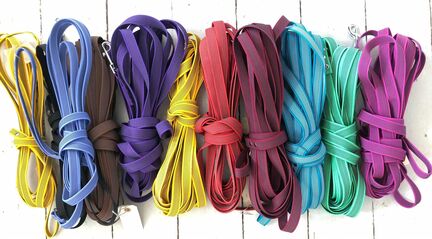 Anti slip lead
15 mm, Gul, 5 meter, Lille - brudstyrke op til 30 kg
€ 10,75
Leash in polypropylene webbing with wowen in traces of rubber. Gives a solid and anti-slip hold.
This leash is very good as tracking leash but is also suited for the dog walk and training.
The standard leash is without handle but it is possible to ad this.
The leash on the picture is colour lavender.
Comes in what ever length you want and if you do not see the desired lengt in the drop down menu, do not hesitat to send us a message.
Standard lengths:
4 ft
6 ft
9 ft
13 ft
16 ft
19 ft
26 ft
32 ft
39 ft
49 ft
Note:
We do not keep all colours in stock, so for some colours the time of delivery will take a bit longer. Drop us a note if you need to know time of delivery on a specific colour.
Please also note that colours may vary from screen to screen.
Width
Colour
Length
Snap hook